One of the Turner Prize nominees has done a piece about it which absolutely floored me
Such unnecessary cruelty
agree Tim, it's a great read, and story
Loved Lark Ascending . Have you read the Tim Lawrence book Hold On To Your Dreams?
I haven't. If I'm honest as I find the writing a little scholarly for me (obviously a personal opinion) whereas I really like the balance say Bill gets of fact to fun.
Tim's book is very thorough.
If John gets too close, Daryl has to say, "No go".
Hate to admit I had to look up who was who. I'd always assumed they were a couple too.

This is what I'm reading right now.
Their only decent contribution to music for me was teaching Jimmy Cauty of The KLF how to engineer when he was in Brilliant
Reading the comments under that SAW list was like being transported back to C4 teletext years ago when the indies used to sneer at the Kylie fans. It all mattered so much
I absolutely loved the two-part series on them recently. Yes they were a factory, responsible for some of the worst of UK pop (and occasionally the best), but also musical geniuses (and actually seemed like lovely people). The Mel & Kim bit was genuinely moving.
(The other thing I consistently hear is that they had zero tolerance for sexism and any creepy/gross behaviour, which stands out for the times.)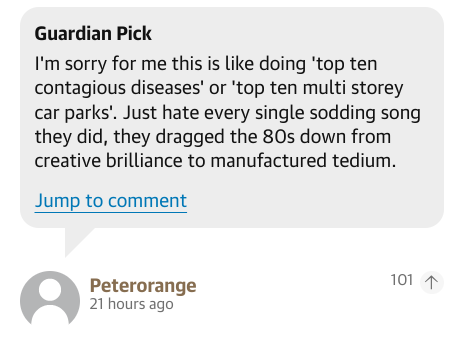 Stewart Lee haircut