Co Hosting Hi Res this Saturday.
It's my big Birthday and everything will be expressed through music and light…it will be an intense packed floor all night.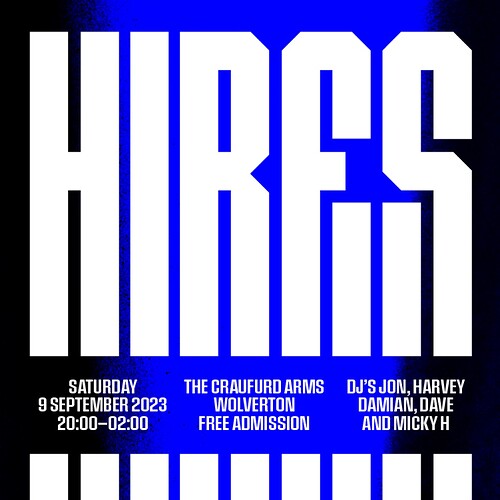 Back from a weekend of fun and games at the annual Nous festival in SW France, a niche and fiercely underground event put together by heavily bearded local eco-skinhead Francois del Mundo. I somehow find myself there every year despite not massively feeling about 75% of the music, but for those international Weatherall orphans evangelical about the 'dark side' it is akin to Mecca. I enjoy the roadtrip mostly - the mountainous stretch between Huesca and Pau is one of the loveliest drives across that border and is good fun in a campervan. Fave moment was probably Dutchman Identified Patient blowing the castle apart with carl craig's take on Faze Action's In The Trees. Interestingly, mushroom drops seem to be the thing now with everyone on them although I mostly stuck to more tried n tested methods. Could've done with more variety tbh. You cannot sustain 72 hours of continuous dark synths and heavy kickdrums without eventually going mad and not sure I can do it anymore haha but lovely to hang out with good pals.
Great to see you again this year. This weekend will be surfing with lashings of Doctor Alimantado to counteract the heavy synths.

……in order to recharge our arpeggiators in preparation for Convenanza.

Happy birthday - hope it goes well (flier looks great)
Going to this tonight at Kings Cross (London) Everyman. Bill & Raj playing afterwards in Supermax.
Looks like a few tickets still available.
My memories of the Four Aces are exclusively based on a solitary visit on Halloween 1998, with a fluorescent dayglo Psy horror vibe upstairs with a strong smell of incense (a pal's cousin was involved), and a French 'touch' thing downstairs, a load of corridors and arty European kids dancing or sat around on cushions. The music was amazing, filters galore, but to this day no idea who did the party or anything
I'm going to see Piers at the lovely Brilliant Corners playing all night on Saturday. After 10 when the lights go down its a good time…
I went to the Adrian Sherwood 3D dub thing at Earth last night. It was a great evening - interview with Adrian, a DJ set by Twitch and then Adrian's performance.
The dolby atmos sound was good but not as transformative as it was pitched to be imho. I imagine though it would require equal stacks all around the room to have that effect? Whereas the speakers in Earth are heavily weighted to the front.
The visuals were brilliant (see images below). Musically, I was expecting him to be live mixing a bit more than he seemed to be - it appeared more to be him playing tracks and then adding FX on top. He played stuff off the new African Headcharge album, some Creation Rebel, a few unreleased tunes with Lee Perry, a tribute to Mark Stewart, and an unexpected last tune of a dub version of Space Oddity. It was a good vibe throughout - would have been brilliant in more of a club setting.

Manchester's mystery man in Tallinn next weekend. It's a 2h ferry ride from Helsinki so gonna make the trip over and back the next day.
This was brilliant. Amazing social history of London/Windrush/reggae/punk/raving.
Anyone from the film industry on here? You need to meet Winstan Whitter, the director/ owner of this film and get it out there.
It's a travesty this is not in the public domain.
Checking this out today in Kings X
So apparently everything MJB had prepared on the octatrack had disappeared during the flight over… but no sweat. Off to the hotel, couple hours to prepare something for the night. He eventually got on and it all came together around 3am. Ended up being more 4/4 and less diverse than a lot of his productions, but interesting textures and all that. Some sphincter tickling subs at times. Function Ones in an industrial hall worked a treat as ever. Considering this was the 6-7th time he's performed at all, and the unfortunate loss of material, MJB killed it in what turned out to be Tallinn's answer to Berghain. A heady and smokey affair. Pic from the pizzeria/bar which is in the same building as the club.
Went to Soul Buggin small party last night
70 capacity that sold out but only Id say 40 there so little bit sparse but great night
I think a know 'a bit' about Disco ( more classics & not so much the re-edit years) & didnt know 2/3 of the music
We're back at Sweeties on Friday 6th October with special guest Jex Opolis! Don't think Jex has played in London for some time now and the guestlist is filling up quick. Please fire over names and we'll add you: [email protected]
Also we meet for a pre drink round the corner if anyone would like to join! Just let us know

Big up Beane and the SB crew!