fun to watch rails make a comeback. everything does eventually!
Seeing Tim Simenon on Jolyon's recent Hector Zazou post reminded me of this: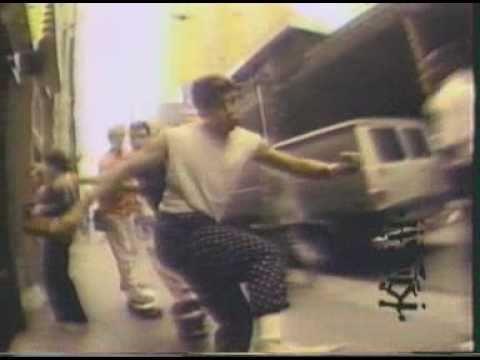 Watched it so many times but still couldn't nail a no comply.
Blimey! I'd forgotten all about 'Attack'.
It was all rehashed P&P footage via Stacy Peralta but widely available in the UK unlike other sk8 videos at the time - pretty sure Woolies stocked it.
Hadn't remembered it was Tim Simenon, but I guess again he was using P&P music from people like Chuck Tree and chopping it all up.
Yeah think I still have the VHS somewhere… Used to get headache watching it… Lol found it. I wonder is it worth much $$$$$

clearly a thing made for the x-US market - i've never even heard of this. that tim simenon had something to do with it makes me wish i had know about it, even if it was essentially a video mixtape.
I found out where the top secret local DIY spot is… Quite exciting walking up to it. I brought a mate and his 11yr old who just started skating… We told him he can't tell anyone…

And a great new interview up on CBI with early World Industries enigma Randy Colvin
Never knew that

Anyone on here going to Dadlands next weekend in Derby?
don't remember it being particularly stately, but do have happy, hazy, halcyon memories