That's the weekend sorted…

Be it on the couch

1000% not moving for two days
Brighton TP link-up?

We held our first day/night event over the weekend and it couldn't have gone better. We asked a couple of young pups who I spotted by chance on Instagram who I felt were doing what we were doing but on a much younger, healthier, better looking scale to team up with us. The two crews both chose a special guest each and we went for it.
To say the crowd was diverse was an understatement. We had our 40-50 crowd, they had their 25-30 crowd, plus all their parents and their parents' friends came and they ended up being some of the loosest people there. I'm still buzzing from how great it was. The music was off the charts good from the first track to the last as well. Here's some pics…
Sounds like a great party

good idea bringing the young pups in and the parents attending makes it even better…
I remember going to danish birthday parties (my ex was danish) and what was really lovely was that the generations celebrated together. I like a club with a mixture of ages all getting down.
Same with my ex who was Turkish. We (UK & US mainly) have a lot of our priorities mixed up when it comes to family, especially older members.
Could this BE any more Matthew Herbert?
My friend is going to the Oscars

his wife worked on Hair and make up for the Banshee movie…
went to the recording of the unclassified radio show last night in the royal festival hall. music was a bit out there at times but great to hear an orchestra. the sound in that room is amazing.
Just booked up for Love International!


Saw Henge last night , very funny and knowing but really good with it. Properly entertaining.
So did I. Then realised it's the same weekend a very close friend is having a big 50th party so I'll be selling my LI ticket. Shame. Always next year for LI.
I was hell bent on LI this year but logistically just cant make it work. Next year for sure.
Just booked Camp Bestival. Taking our 4 year old to his first 'proper' festival. It'll either be madness, or inspired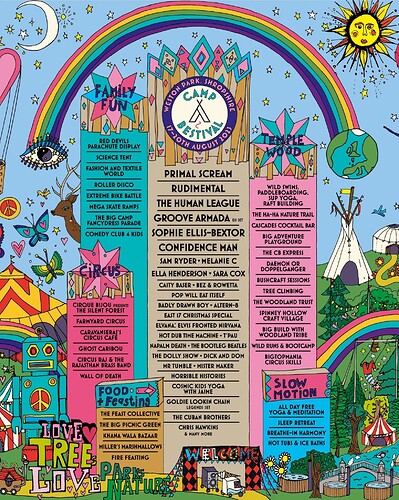 We went in 2012 with ours, 11 and 8 so a bit older but they absolutely loved it. Justin Robertson smashing it on a Friday afternoon, Hot Chip, Horse Meat Disco, Rodigan on Sunday arvo then Chic. Great weekend.