What was the ladies name that ran it? Joanne? She was very nice.
Spent so much time as a teenager in there. Jo was ace.
Currently using these from the short lived mid 90s shop DangerTrax in Brighton. Dulcie Danger of Inner Rhythm solo venture as I recall.
I had a great pair of Joy For Life slipmats from another fairly short lived 90s Brighton emporium. Left them in a venue somewhere in the dim and distant past.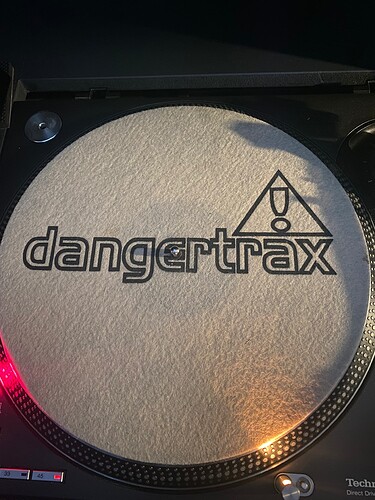 Gordon Kaye! He opened a shop in Nottingham for a bit, Flying were going to open around same time but never did
Vaguely remember Gordon was an early Chuff Chuff / Miss Moneypennies regular
i was a used buyer for quite a while, and i loved finding oddball stuff crammed into records. most often it was receipts, sometimes it was love letters, and once in a while it was lil' dime baggies. i think it was cash maybe once or twice, but never really anything over a fiver.
https://twitter.com/mattjencik/status/1585752615128039425
"Today some people brought in a box of LPs to sell. Our guy going through them found an envelope in Def Leppard's Hysteria with $600 inside. Then he found more envelopes in other records totaling $1800. When they came back in… We returned the money & they told us their mother had dementia & she was hiding money all over the house & they were selling the records to get money for her care. That's a first one for me"
stuff like that makes me miss being a buyer. that said, it's worse than ever right now because people think their crap is worth top dollar thanks to the "vinyl renaissance", folks who spent way too much money on a billy joel re-ish can't believe that in a couple of short years the value didn't INCREASE, and anyone who has anything remotely cool want discogs money. vinyl stupidity indeed.
Not a massive suprise it was short-lived. Dulcie once decided to close the shop on Saturday so we could all "go and listen to Derrick Carter and get wasted". Good times.
Good solid decision, can't fault it.
I mentioned Bananas (St Petersburg, FL)in an earlier post. Happen to be in the area and swung by. These days, they just seem to price shit up using discogs and take the piss while they're at it. Of course, you still have to plow through racks of barely sorted shit in their warehouse to even try to find stuff of any description. What did it for me was them trying to say stuff they're pricing up at $4.99 (and took their sweet time to do… painfully slowly, while taking generous pauses to shoot the shit with their friends, when we'd made it clear we had to make a move), I could see on cogs was barely going for $2. No traction with even trying to haggle, even on those. Laughable.
So overall, a very sad state of affairs; and I'd not bother returning again. Feels like end of an era; had some top digging sessions and moments there over the years when passing through the area.
The one bright moment today: my 16 year old daughter ended up digging around for 7s and coming away with stuff she felt really pleased with. Even though I suspect she could do even better in chazzer shops but we'll get to that some other time

I must admit to loving her shrieks of delight as she stumbled across tracks that she loves and found on wax

I have a little sympathy for a stores prices being above discogs because of overheads but that sounds like incredibly bad customer service, which is where my issue lies with a lot of stores. Be friendly, give the customer decent service and they won't mind paying over the odds for something. Be rude and that person tells everyone to avoid.
Everyone was friendly enough, but nobody working on the actual desks seemed to have any agency or inclination to even give a discount if you were looking to buy a few things (which I've always encountered at record stores, even the historically moody ones).
We met the owner in the building that we were digging around in, and he gave an impression that discogs was the starting point now but it was open to some discussion, but the chaps across the way seemed to be more indifferent and "procedure says no" which felt like a serious disconnect.
Anyway, fuck em. I'd be inclined to stick my head in the other location if I'm ever passing through again (simply because the amazing Mazzaro's is next door, which is a foodie gem in that part of the world) - but this is highly unlikely, as I suspect this is our last family-related trip to FL, due to the declining health of one of my in-laws. Still, it's been a good trip overall, and previous hauls were memorable.
That's disappointing, especially at a place that is built to sell in bulk.
Anybody else remember Haggle Records on the Essex Road in Islington? Bloke called Lindsay (i think) ran it, possibly the most miserable and downright rude record shop owner of them all.
Recall that one Saturday afternoon, at 2.30pm, there were half a dozen or so people browsing when he suddenly announced that, "everybody has to leave, the weather forecast says it's going to rain soon, and i want to be home before it does as i'm cycling today."
Heard another story about a Japanese guy who was touring record shops and spending a lot of money, get chucked out for not taking his baseball cap off.
Closed several years ago, and is now a barber shop.
I used to live on Essex Rd. He was indeed a miserable git.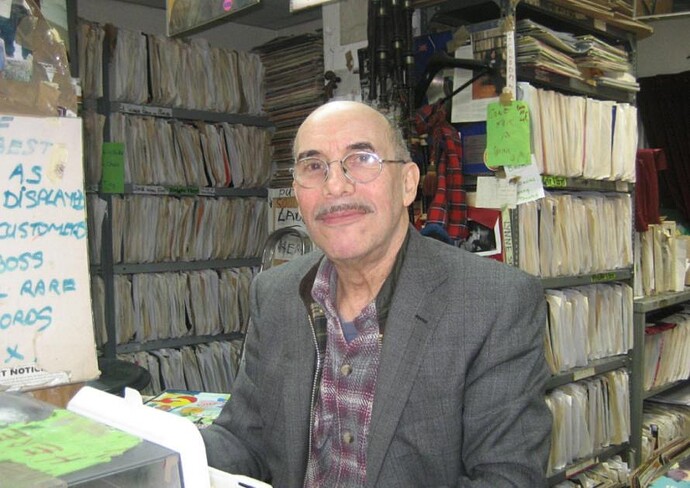 Lyn … a deeply unpleasant man, although I never had a problem with him personally. I did see him bawl some poor bloke out of the shop for daring to ask him a question about the condition of a record. I found some great records in Haggle. He knew nothing of or didn't care about House music and I found quite a lot of cheap early Chicago 12"s in the piles under the racks. I seem to remember finding 3 copies of Chip E's Time To Jack all stacked on top of each other! Lots of good cheap disco in there too. Best not to ask about British Jazz records though ….
Went a few times not sure if it was him but story fits. Paid for a record and he walked out and straight into the bookies next door


My favourite record shop near where I live is just like this. It's amazing it hasn't been closed down as a health hazard. Half the shop is inaccessible because of piles and piles of records that you can't move or get past. A treasure trove though!