I've got an evening and day to kill in Barcelona this week… Any recommends gratefully received : )
Tram to Montjuïc - dip in the Piscina Municipal on a hot day followed by a vermut - a swim with an incredible view of the city. As seen in the Kyle "Slow" video.
Fried anchovies at La Plata in El Barri Gòtic.
I'm sure locals will have better tips but these were highlights for me…
Classic Faith thread

I live fairly central near Sagrada. Tips: Dublab Spain at la rubia on carrer ferlandina for the radio shows and drinks in the bar. That's 2min walk from discos paradiso and cool CCCB / MACBA museums. Also check Wah Wah records & Revolver for the old vinyl. Bars: Curtis Audio (carrer mallorca) for soul/funk and Switch Pocket Club (gracia area) for the deep house (sound limiters though - the eternal bane of this city). Marula for afrobeat vibes. Also 45/33, casa bonay (dep who's on) + Pulitzer rooftop. Food faves: Parking pizzeria on passeig sant joan, Petra lunchtime menu in Born (Mison liked it!) , Xampanyet (popular try to book), la alcoba azul and Petit Bo (next to Curtis)
Avoid Ramblas/port/Barceloneta. Tourist shitholes. Total humid sweatfest right now. I can't make Sonar but some of the Pikes lot are doing something good on Sat so i'll be here probably

https://www.instagram.com/p/Ceqnx62jECl/?igshid=MDJmNzVkMjY=
This is great. Thanks mate.
Bar del Pla for lunch, everything is delicious, like nouvelle tapas but not wanky at all, great place.
One of my favourite places in the world. Spent many a weekend in a tangle during Sonar weekend. Sonar by Day is still worth a look.
Cant really beat the local advice from Hierbas but I've always enjoyed a mooch round Montjuic. Great views and nice parks.
Barceloneta is indeed tourist ville but if your pushed for time and fancy dipping your toes in the sea its worth a visit.
Raval district is well edgy, watch your belongings around there. Infact watch your stuff everywhere, especially at night
If you really dont know where your going plenty of decent ish bars and eats in the Gothic quarter
That Homies party looks a great shout, they are pals of mine, great lads should be ace that
Whats the Homies party? I'm on with Jan Wolf Muller on Friday but if its Thursday I might pop down.
P.
This one
Looks like Saturday though. Ill reach out to some contacts and see if theres anything happening Thursday eve
Thanks Joe.


Love Montjuic esp when you need a release from the city. César de Melero often plays up there at La Caseta in the trees
I'm at the edition with Jan wolf muller.
Quite a few off the Off Sonar events happen in Poble Nou, the more more industrial part of the "centre" where I used to live until 2016. If you find yourself there then my favourite tapas restaurant in the city is on the Rambla Poble Nou (an altogether more civilized Rambla!) - Google Maps - great modern tapas at good prices.
Betty Fords is a classic (tiny) locals bar in El Raval - Google Maps
If you want a great organic/natural wine experience and banging food in Gotico then Bar Brutal is my pick - Google Maps
I'm not an alarmist BUT don't take your eyes off your bags, phone whatever for a second. Pickpocketing and distraction/stealth thievery are an issue normally but more so during Sonar.
We used to get the funicular up from Poble Sec and just behind the station there is a lovely green space where we used to take a picnic and chill out on a hot day.
The sound system in Curtis Audio is by far and away the best in any bar in the city. If there is anything happening there it's definitely worth checking out
Had amazing tapas at Cal Pep a few winters ago…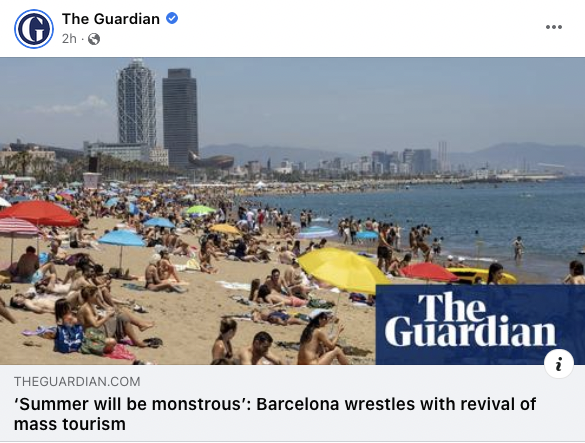 @Apiento - they all heard you were playing