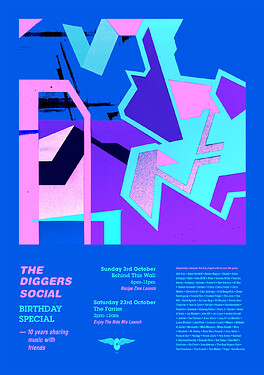 Next month I'll be celebrating 10 years of The Diggers (11 technically but last year doesn't count!), with a couple of get togethers at HiFi dens in London town:
Behind This Wall • Sunday 3rd October • 6pm-11pm
Behind This Wall is a cocktail bar on the Mare Street Narrow Way. Tannoy & JBL valve powered system, modern takes on classic cocktails, with friends and family on deck all night. If anyone fancies coming down and playing a few let me know.
I'll also be launching my DJ Recovery Tools recipe zine. Recipes, tips, tricks, and breakfast booze that have kept me going over the last few years, the morning after a gig.
The Farrier • Saturday 23rd October • 2pm-12am
The Farrier is a new pub in the stables at Camden Market, with an Audio Gold sourced, properly installed and tuned Celestion rig. Real nice food and wine list.
I've got Lucid (Balamii), Mr Redley (Apron), Adrian Magrys (Lanquidity Records) joining myself and Hazmo on the E&S all day/night.
Again I'll be launching something new to mark 10 years, this time a limited edition USB mixtape with special DIY packaging.