Love Masahiro Maruyama! Looks like something Chris Lowe could have worn in his heyday.
Oliver People's do the job for me
We have a lot of Ray Ban dating back 25-30 years as they were made where I live and employed alot of people from the area… I think I counted 18 in my parents house few years ago…
Bausch & Lomb era Ray Bans were great…sorta went bad when they got sold…
Yes bausch & lomb here in Ireland… Think they only do contract lenses now, but back in the day everyone could get you any amount you wanted. My father has some nice ones still in the soft leather pouch
Got a a pair of B&L Ray Ban Clubmaster from 1989 in the car along with classic Wayfarers from the same era too, much better quality build and glass lenses.
Had various Oakleys and Ray-Bans since but never get particularly attached to them.
i wore ray ban baloramas for years, starting in uh… 1988? i still have a pair of the originals. i was a skinny little punk, but i thought they made me look like lou reed.
about 10 years ago i FOUND an amazing pair of ray ban wayfarers (scratched up, on the street!) that are super rare - Ray Ban RB2157K
and just last week TRAGEDY STRUCK:
now i'm thinking i should lean in to being a washed-up 80's dad, and for that reason, i think i'm going to go try some classic vuarnet pouilloux cat eyes. after all, jeff spicoli really was my first role model.
I guess I got lucky or karma did me a solid one, but soon after posting this I actually found a pair of used but mint condish buffalo horn Benny's here in Brazil which were being sold for the equivalent of about 100 dollars. They are 1800 dollar frames, new. I'm psyched!
I'd imagine they can be pinned and glued, all is not lost, bummer non the less.
Always worn Oakley Frogskins, tempted by some of the 35th anniversary models:
https://www.oakley.com/en-gb/collections/frogskins-35th

I have a small head, please don't laugh, so almost all frames make me look like a child wearing adults sunnies. Not really the look I'm after. I have been wearing American Optical for about 25 years now. They come in 3 sizes and multiple frame finishes and lens colours. They used to be very reasonable, so very good for everyday shades, they are still very reasonably priced. I live Australia, where sunglasses are an everyday necessity and these guys fit my budget and my head ; )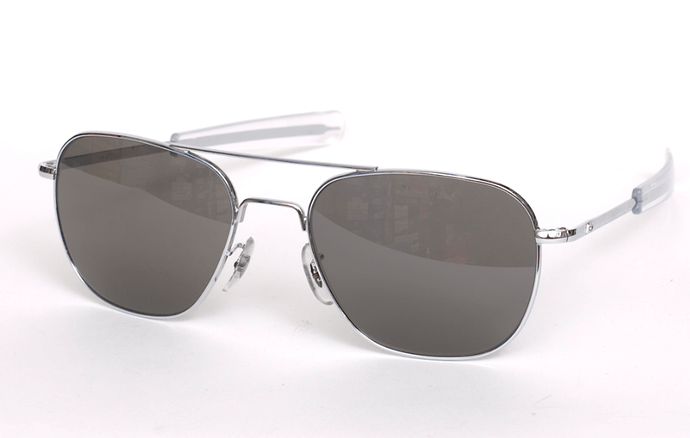 pinned and glued indeed! took a while but the company did a great job - nearly good as new.
only issue was that they scratched the original mirror-finish lenses and didn't have any of those to replace them - so i got brand new polarized lenses, on the house. they polished them up all nice - they returned in far better condition than i ever kept them. SUCCESS.
Ace, always worth trying to fix stuff I recon.
Araldite Metal is your friend, not pretty but okay for these 'Garage' specs.


(I've turned into my Stepdad)

Help!!
Ever since having to wear a mask all day every friggin day (NHS so the cheap ass masks) my big Irish ears have been hurting so much my sunglasses all hurt as well. I have a pair of Cubitts and a couple of pair of ray-bans and they all have become quite uncomfortable. Can anybody recommend some very cool but very light sunglasses please. Light being the important bit but I still want to look ace.
some of these are super-lightweight, quality lenses and frame materials
I bought a pair from Ace and Tate recently. Pretty light i would say. But then i've lost every pair of shades i've ever owned so not much to compare with.
Thanks both will have a proper look tonight
If you live in London there's a bunch of decent sunglasses shops near brick lane/spitalfields. YMC and Ace & Tate both have shops there actually