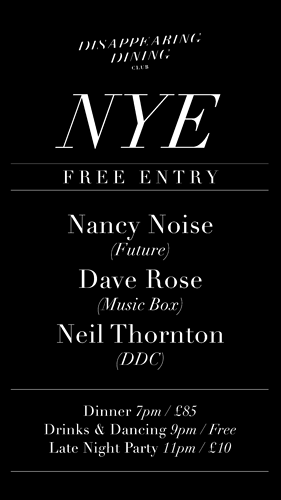 Join us as we say thanks-but-no-thanks to the most ridiculous year we can remember!
This year's NYE bash promises to be a corker with a beautiful dinner followed late night partying with Balearic pioneer Nancy Noise (Future) and DDC regulars Neil Thornton and Dave Rose (Music Box Radio).
Dinner is a welcome cocktail and four courses including Oyster & Champagne Soup with Devonshire Crab and Salmon Caviar, Roast Duck Breast & Smoked Duck Sausage with Carrot and Ginger Purée and Port Jus, Truffled Brie, and Champagne & Elderflower Jelly for dessert.
DDC NYE is £85 for a welcome cocktail, four course dinner, an evening of terrific DJs and a 3am finish.
Drinks & dancing free b4 11pm
Late night party 11pm onwards £10
The Dartmouth Arms 35 York Rise NW5 1SP