Thanks for that! I think it's more on the linear end but I will report back later with more detail
Ok after much twiddling of knobs I can report that it's a super smooth linear curve. A real steady increase in volume at each point with no jump in volume (like on the Allen n heath and subzero) very nice indeed!
Thank you for your service.
Unfortunately this new piece of info is what's going to send me into financial disarray.
Your future self will thank you for it! PayPal credit? 6 months to pay it off with no interest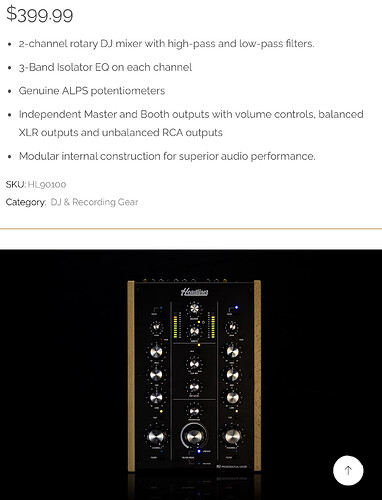 Haven't heard of the company (Headliner) behind this but definitely curious, a lot rests on that filter. Rarely is a big filter knob a bad move…
Here is how my rotary mixer journey is going:
I just bought a Lucia X.
Haven't bought any new records in 2 months and counting but this is making my year of making music and buying what I think is a legacy piece of kit that much more rewarding.
I know I'm biased too., but Condesa's are such beautiful.l bits of kit.
Looks nice - big fan of the layout. Seems a good price as well…. I'm also curious!
That's a monster of a mixer.
Ha! You're right, my bad. Not bad looking that 'Hendo' mixer either! VU meters

Have you got a 6 month wait?
New mixer from Omnitronic announced:
https://www.instagram.com/p/CraVK9XMM7G/?fbclid=IwAR18Cc20NMkyP9BYF-RomR5kK-2rIB4kQeybUAAdGo5Bvlxi3pdcusp5N7g
Cold War nuclear bunker vibes… I like the aesthetic.
You need to turn two keys simultaneously to activate the Cake Throw function.
Aping the Varia Instruments look that, but I'm OK with it…