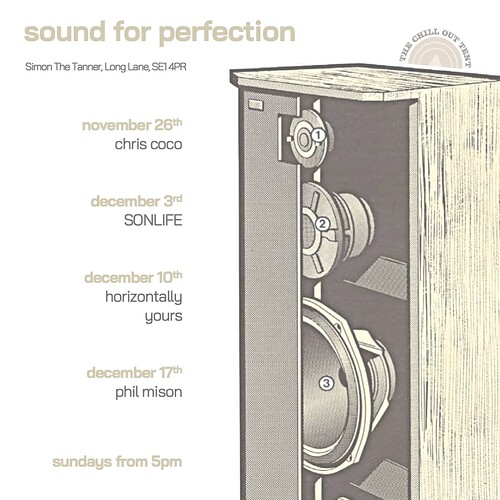 sound for perfection : a new Sunday session at Simon The Tanner with The Chill Out Tent**
We're starting a new Sunday music session at Simon, curated by Chris Coco and The Chill Out Tent (the people who do our monthly album picks).
The idea is to create a cosy, warm, relaxed feeling for the end of the weekend so you can slide gracefully from Sunday Roast into an evening of music, chat, drinks and general good vibes in an intimate environment.
The Roasts are on from midday till 6pm, and our fine selection of DJs will be playing some of their favourite records on our hi fi sound system from around 5pm.
The DJs love Simon because it feels like playing records at home, and you can literally sit at the bar while you play the tunes.
Here's the line-up for the first month of Sundays
November 26th - Chris Coco
Chris is a big eclectic and Balearic music head, DJ, producer, host of the Melodica radio show and founder of The Chill Out Tent.
December 3rd - SONLIFE
SONLIFE is a trip hop, ambient, electronica music producer and a proper SE London native. His debut album is a wonder.
December 10th - Horizontally Yours
Horizontally Yours aka the dynamic duo - Neil Thornton and Gethin (aka mr good vibes) always dig deep for the finest downtempo delights.
December 17th - Phil Mison
Phil, also known as Cantoma (his production name) is famed for his 90s residency at Cafe Del Mar and his always excellent music selection